Buy the CD: 
Autographed, buy it direct from Laurie! »
Also available at: CDBaby | iTunes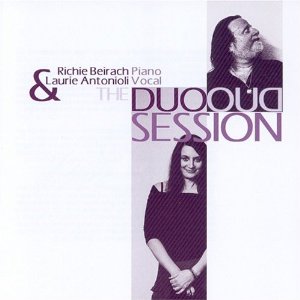 Laurie Antonioli – Vocals
Richie Beirach – Piano
Recording Engineer – Oliver DiCiccio
Mixing Engineer – David Baker
Mastering Engineer – Martin Kleeban
Producer – Laurie Antonioli
Recorded at Mobius Music, San Francisco, California
Released – 2005, Recorded 1992
Track List
Flamenco Sketches – Davis/Antonioli
You and the Night and the Music – Dietz/Schwartz
Blue in Green – Davis/Antonioli
Green Dolphin Street – Kaper
New Souls – Larry Gelb
The Island – Lins/The Bergmans
Moonlake (Nightlake) – Beirach/Antonioli
You Don't Know What Love Is – Raye/DePaul
Sounds From Your Heart (Elm) – Beirach/Antonioli
Memories/Dreams & Reflections – Beirach/Antonioli (no lyrics)
"The quality of this record is almost unrivaled… A world-class album."
– Concerto Magazine
"In the meeting with Beirach, she stretches and bends phrases, smears tones and improvises like a horn, while Beirach answers, comments and offers ideas and inspiration – in fact, he does everything except simply comping."
– Fono Forum Magazine
Liner Notes
Applause! – and then silence.
Into the silence comes a few tones and then some impressive chords.  Over this you hear a horn singing a melody.
The horn speaks, and its message comes out clearly.
And there is an orchestra with bright strings and dark basses.
As it turns out the horn you hear is the voice of Laurie Antonioli and the orchestra is a piano played by Richie Beirach.
It's 8:30pm, December 18th, 2004 at the jazz club "Porgy & Bess" in Vienna, Austria and Beirach and Antonioli are performing a Duo Session. And when they play, it's Beirach AND Antonioli.  No one comes first; they work side-by-side, a union of ideas, spontaneity and intelligence.  Both are so familiar with the material and with each other that they can go as far as their inspiration leads them, in trust, where they meet each other again and again at just the right moment.
Laurie's style of singing is unique.  She's a true "natural" musician and her lyrics to Beirach's wonderful compositions like "Elm" and "Nightlake", along with the Miles Davis classics "Blue in Green" and Miles' trumpet solo on "Flamenco Sketches" show her instinctive talent to find text that fits perfectly to the melody.  When she sings she bends the words, she whispers, she swings, she uses all the different timbres of the human voice to bring out the meaning of the lyrics.
And Beirach plays with great passion.  He is a master of harmony and colors, and has a sound you can identify right away.  Aside from his harmonic and melodic virtuosity, his burning rhythmical approach is demonstrated with a left hand that is as strong as any rhythm section.  He can change the direction of a piece from a gentle rubato ballad to an up tempo pace and still keep it light and flowing.
Hearing these two musicians collaborate in a live performance is a very powerful experience.
Now, in 2005 they fortunately decided to release this recording. This cd documents a great duo at work.  It also shows how well known standards like "Green Dolphin Street" and "You Don't Know What Love Is" can be made to sound new.
Antonioli and Beirach have been in the music business for a long time and this is one stop on their musical journey.  Enjoy.
Silence! – and then applause.
Robert Siedel
Leipzig, Germany
January, 2005