Buy the CD: 
Autographed, buy it direct from Laurie! »
Also available at: CDBaby | iTunes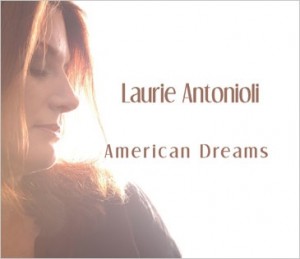 Laurie Antonioli – Vocals
Matt Clark – Piano
John Shifflett – Bass
Jason Lewis – Drums
Sheldon Brown – Soprano and Tenor Saxophones, Bass Clarinet, Harmonica
Dave Mac Nab –Acoustic and Electric Guitars
Produced by Laurie Antonioli
Recording Engineer – David Luke
Mixing Engineer – Jay Newland
Mastering Engineer – Mark Wilder
Recorded at C-Change Studio, Berkeley, California
Track List
1. Samba Nada Brahma – Pauer/Antonioli
2. Vienna Blues – Pauer/Antonioli
3. Moonlight in Vermont – Blackburn/Suessdorf
4. How Long –  Pauer/Antonioli
5. Sweet Sound of Spring – Pauer/Antonioli
6. Under Consideration – Lewis/Antonioli
7. Stimulus Plan – Nagel/Antonioli
8. America the Beautiful (Bates, arr. Mac Nab)
9. Dreary Black Hills/Get Up and Go – Traditional/Shifflett/Antonioli
10. Just a Dream – Pauer/Antonioli
11. Long Way From Home (Zal) – Beirach/Antonioli

"Calling
American Dreams
a jazz album is too narrowing a description. This record is actually an odyssey through the American musical landscape."
– Dan Bilawsky, All About Jazz
"…she began collaborating with pianist and composer Fritz Pauer. Five of their joint efforts form the backbone of this cunning reverse travelogue, which examines the tremendous pull of home and its familiar comforts one feels from distant shores."
– Christopher Loudon, Jazz Times
"American Dreams is filled with wonderful, chromatically ingenious examples of Antonioli's vocal brilliance, with the singer melting the artificial barriers set up to separate rather than unite music."
– Raul D'Gama Rose, All About Jazz
"As a lyricist, Antonioli joins a rarefied group that includes Hendricks, Eddie Jefferson and Oscar Brown, Jr. as evidenced by her Fritz Pauer collaborations and her sole song composed with Richie Beirach, 'Long Way From Home.' It is not hyperbole to say that Laurie Antonioli is emerging as the most important vocalist, let alone jazz vocalist, this decade. Let us hope for much more music from this brilliant constellation in the west."
– C. Michael Bailey, All About Jazz
Liner Notes
Dreams come in many forms. As artists, we represent dream worlds in our work. The line between the practical, so-called real world and the mindscapes of imagination blur and are always at play for us. While living overseas from 2002-2006, I would dream of being back in the States — there was a longing that can only be described as homesickness. And then, once home, with our country in a state of crisis, yet with so much hope on the horizon, the concept of the "American Dream" is at the front of my mind.
This collection of songs is informed by American Jazz, Folk and Country music. Nine of the thirteen contain my lyrics and of those, five are composed by Austrian pianist Fritz Pauer. Fritz was my colleague and songwriting partner for the four years I taught at the Jazz Institute at KUG University in Graz, Austria. Two songs are American "traditional" pieces. The patriotic anthem "America the Beautiful" is something I've wanted to sing for a while, and Dave McNab's arrangement is sublime. The cowboy song "Dreary Black Hills" is about the gold rush in North Dakota in the late 1800s; we do it as a medley with "Get Up and Go," an original by our bassist, John Shifflett, the lyrics written by me during a long road trip. I saw tumbleweed blowing across the highway and imagined the story you'll hear.
The songs are about nature ("Oh, What a Beautiful Morning," "Moonlight in Vermont," "Sweet Sound of Spring," "Samba Nada Brahma"), about longing for people and places in other cities ("Vienna Blues," "How Long," "Long Way from Home"). "Long Way from Home" was originally titled "Zal," and is composed by dear friend and longtime musical partner Richie Beirach. The songs are about the labyrinth of potential love in "Under Consideration" by our drummer, Jason Lewis, and "Just a Dream" is a mysterious song about deep connections that want to be realized. The bass clarinet and exotic vocal electronics add to the mystery. And then, there's a quirky statement about luck and finance that seemed fitting considering the current economic crisis. "Stimulus Plan" is in the style of Ornette Coleman, written by Paul Nagel.
There are some story lines you can follow, but in the end it's the cohesive communication between the musicians that truly stands out. Thank you Matt, John, Jason, Dave, and Sheldon. You continue to be my favorite musicians. The recording session was a delight.  To top it off, the artistry of mixing engineer Jay Newland provided a sonic environment I could only dream of.  So many dreams have come true, and doing this recording is certainly one of them. Sharing it with you is yet another.
Laurie Antonioli
Oakland, California
March, 2010